Ocean's Now Suffering from Carbon Dioxide As Well as the Atmosphere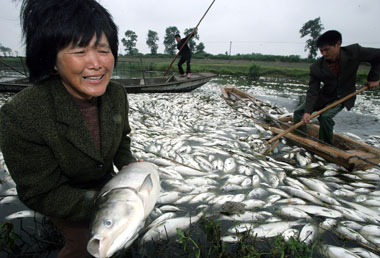 At a minimum, this is not good news for fish lovers. Those who think the ocean is important to keep our environment in harmony might also be concerned.....
NAIROBI, Kenya - The world's oceans are becoming more acidic, which poses a threat to sea life and Earth's fragile food chain, a climate expert said Thursday.
Oceans have already absorbed a third of the world's emissions of carbon dioxide, one of the heat-trapping gases blamed for global warming, leading to acidification that prevents vital sea life from forming properly.
"The oceans are rapidly changing," said professor Stefan Rahmstorf on the sidelines of a U.N. conference on climate change that has drawn delegates from more than 100 countries to Kenya. "Ocean acidification is a major threat to marine organisms."
Fish stocks and the world's coral reefs could also be hit while acidification risks "fundamentally altering" the food chain, he said.
In a study titled "The Future Oceans — Warming Up, Rising High, Turning Sour," Rahmstorf and eight other scientists warned that the world is witnessing, on a global scale, problems similar to the acid rain phenomenon of the 1970s and 1980s.
Rahmstorf, the head of Germany's Potsdam Institute for Research into Climatic Effects, says more research is urgently needed to assess the impact of ocean acidification.
David Santillo, a senior scientist at Greenpeace's Research Laboratories in Exeter, Britain, said
it had come as a shock to scientists that the oceans are turning acidic because of carbon dioxide emissions.
"The knock on effect for humans is that some of these marine resources that we rely on may not be available in the future," the marine biologist, who was not involved in Rahmstorf's study, told The Associated Press by telephone.